Figuring this out
It's a relatively easy sunday afternoon and I'm currently on shift 5 out of 7. It's also the first week of january and the time of new years' resolutions. So here I am: writing my first blog in English and still figuring out where I'm going with this. I think my new years resolution is to try and write something here every week, eventhough I already know that's ambitious and probably not gonna happen. But so far, so good.
Like I said, I'm still figuring it out.
Not only with this blog, but also just in general. I went level up in the white coat hierarchy and I'm trying to remember that I am supposed to answer when people say "hey doc". I'm also trying to figure out how to keep cycling and racing my bike, especially on days like today. On weekends we work 12h shifts, which is nice from one side cause because that way only two of us are here and the rest can have a well deserved weekend. On the other side, two of us have absolutely no life for 2 days, which makes it hard to do any kind of training or anything else out of scrubs. Actually, I'm pretty proud I managed to do my dishes, made myself food to take with me and slept a full 8 hours between shifts. Luckily today is about half as busy as yesterday and I even found some time to write this blog and plan my training for next week. So I guess the current relationship status between bikes and scrubs is best captured as "it's complicated".
Apparently, just like I sometimes advise my patients, it helps to write down some of the things that happen in this mixture of hospital and bike life. So as far as new years resolutions last, week one is done and dusted and I guess I made it through.
See you next week!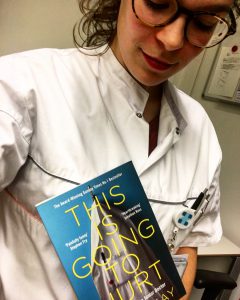 Oh also: let me know, would you like to read more about cycling or more about the hospital?